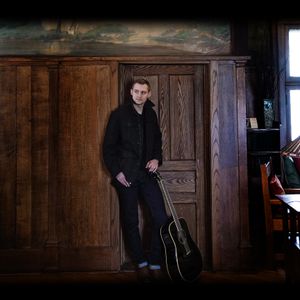 From early on, Owen Eichensehr was drawn to the look of a drum set as it sat on a stage. In fact, its appearance is what he says first inspired him to want to pick up the instrument.  
That said, one must travel back to the very early stages of his life to find to the start of his musical journey. Around the age of two, Eichensehr received a toy drum set from an FAO Schwartz catalogue and immediately became hooked.  
"I would spend hours banging on that thing in the basement. It sounded great to me at the time, but I'm guessing my parents had some other opinions," laughed Eichensehr in a recent interview.  
Though neither of his parents are musicians, Eichensehr describes a childhood filled with various types of music emanating from the family stereo system. The most influential, Eichensehr says in retrospect, was Stevie Ray and Jimmie Vaughan's 1990 album, Family Style. 
Says Eichensehr, "Oh man, my cousins and I would run around the house dancing to that song 'White Boots' for as long as my dad would let it repeat." 
Eichensehr began taking basic drum and piano lessons as he entered elementary school and recalls justifying to his friends why he was "listening to his dad's music" on the bus. That music, it turned out, was none other than the great Carlos Santana. 
For his twelfth birthday, Eichensehr received tickets to a blues concert in which BB King, Buddy Guy, John Hiatt, and Tommy Castro were sharing the bill. 
"Yea man, that was big. Saturday, September 8th, 2001. Three days before 9/11. But I think that was the specific night where it went from music that I really enjoyed, to music that I had to learn how to play." 
Over the next several years, Eichensehr continued to play drums in the jazz and concert bands of Haverling High School (Bath, New York). However, the sounds of screaming electric blues guitar solos were exerting their pull, and outside of school, he was having a hard time finding guitar players who were into the same music.  
This changed on August 29th, 2005. 
Having heard that he'd been starting to mess around with his brother's largely unused, left handed guitar, an uncle purchased Eichensehr (a righty) his first guitar as a birthday gift from the renowned House of Guitars in Rochester, New York.  
"That was it, I guess. I started playing guitar that day and have had one in my hands nearly every single day since," recalled Eichensehr. 
Though largely self-taught, he did take a short stint of lessons with finger lakes-based guitar instructor Ken Erway. According to Eichensehr, while his time with Ken was short, he learned some invaluable finger picking techniques which he still uses extensively in his playing today. 
Upon graduation from high school, Eichensehr relocated to Buffalo, New York and began to work his way into the vast local music scene. It was during this era that he began to explore his abilities as a vocalist and writer and joined the first of what would be many bands.   
In 2017, Eichensehr was referred by notable Buffalo based drummer Ray Hangen (Sean Costello, Bruce Katz) to former Levon Helm and The Barnburners harp player Chris O'leary for several tours including a twelve-day stint to Europe.  
Over the years, Eichensehr has become a sought after hired gun on the drum kit and guitar, having gigged and recorded with dozens of Western New York's heaviest hitting roots musicians (many of whom are Buffalo Music Hall of Famers). These include, but are certainly not limited to: JJ White, Jeremy Keyes, Willie May, Hayden Fogle, Jay Moynihan (Buddy Guy), Robert "Freightrain" Parker, Jony James, Tommy Z, Doug Yeomans, and Sharon Bailey, to name a few.  
As we concluded, Eichensehr stated, "When I moved to Buffalo, I had two musical goals in mind. I wanted to grow as a musician, which is an ongoing lifelong goal, and I wanted to get to be friends with and play with the best-of-the-best. I'm so lucky to be able to say that I have done that, and I absolutely can't wait to continue doing that as I move forward in my career." 
Owen Eichensehr can be seen gigging regularly as a lead guitarist for the finger-lakes based Alex Myth Trio, playing drums for his blues-rock trio 3 Of A Kind, as well as performing solo acoustic gigs all over the WNY region under his own name.